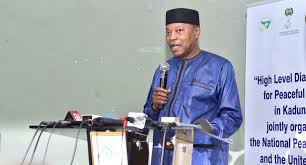 IDEA engages with stakeholders ahead of legislative elections –
By Mustapha Jarju
The International (IDEA) has again had a dialogue with politicians, journalists, traditional leaders, religious leaders and civil society organizations on the value of the code of conduct and how to mitigate the risks of electoral violence in the upcoming legislative and local elections, the dialogue took place at the Sir Dawda Kairaba International Conference Centre, Bijilo.
Speaking at the event, Mohammed Ibn Chambas, former Special Representative of the Secretary-General and Head of the United Nations Office for West Africa and the Sahel (UNOWAS) urged the Independent Electoral Commission to guarantee elections credible and transparent legislation.
"The CEI and the IPC must work in the spirit of ensuring that fair play will prevail so that all who wish to stand for election to the National Assembly have the opportunity to do so. The condition should be there to ensure that all applicants are on an equal footing," he said.
He revealed that IDEA has taken responsibility for being available to play a role alongside the IPC and civil society to ensure a continuous effort to ensure that the parliamentary campaign and elections are peaceful. in the spirit of national unity.
Mr. Chambas encouraged "CSOs and the media should ensure that all candidates focus on their intentions and plans for their constituencies and how to impact the lives of their constituencies and avoid words that will divide this country. We want to see a united Gambia.
President Muhammad S. Bah, chairman of the Gambia Press Union, commended the journalists for their work during and after the presidential elections. He recalled their efforts to ensure that the public received the correct information.
"On election day, journalists were busy checking fake news circulating on social media, which was quite unique," ​​Bah said.
Babucarr Nyang, a young activist, called on the government to recognize the efforts of young people in the presidential election. He said young people had come in droves to vote and keep the peace during and after the elections; therefore, the government should include them in any development they undertake.

Post views:
46