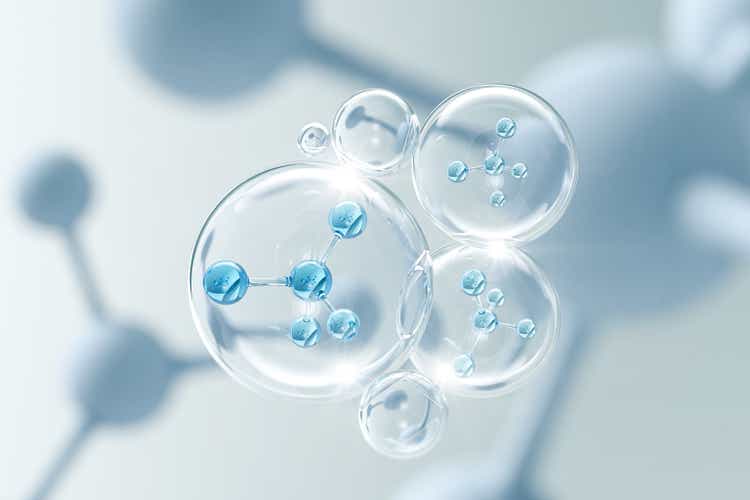 Progyny Stock: Solving the Infertility Problem (NASDAQ: PGNY)
Investment thesis
Progynia (NASDAQ:PGNY) is a benefits management company specializing in fertility and family building. Their client list already includes many top employers, and the client base is growing rapidly (over 265 clients with at least 1,000 lives covered). Progyny currently has contracts to cover approximately 4.0 million employees and their partners. Infertility is a common occurrence, affecting one in eight couples, so I expect Progyny to continue growing in the future. I believe Progyny is a great investment option because:
Progyny's growth is just beginning. The addressable market for fertility benefits is huge, as there is no effective solution at this point.
Even though Progyny is a young and growing company, it is already profitable and has a positive cash flow ($14M operating cash flow). Profitability will only increase from now on.
It is a financially very solid company with minimal debt ($8.4M) and strong liquidity (current ratio at 2.4x)
Fertility Benefits Market Landscape
Infertility is a very common condition in the United States. One in eight couples is affected by infertility, or about 6.7 million people each year. In the past, infertility has not received much support or attention due to limited technology and negative perception surrounding treatment. Many health care services and benefits did not cover infertility. However, this perception has changed. More and more people see infertility as a disease that can be treated, and more and more employers are now beginning to offer fertility benefits. Progyny is really doing a great job of capitalizing on this trend and has been expanding its customer base rapidly over the past few years.
Progyny effectively addresses three main challenges in the space: the lack of a comprehensive fertility benefits solution, the high cost of neonatal intensive care in the event of multiple births, and the need for employers to find innovative ways to attract and retain top talent.
Currently, patients on a conventional fertility benefit plan often make poor clinical decisions (eg, to transfer multiple embryos due to financial pressures) because of the restrictive features of the benefit (eg, ., lifetime maximums). These poor choices usually result in higher costs for employers. With its data-driven platform and differentiated benefits plan design, Progyny delivers results above the national average. The results benefit both employees (higher live birth success rates) and employers (lower costs). With superior results and excellent marketing, Progyny is rapidly expanding its customer base (47% customer growth) and its revenue is also growing rapidly (48% YoY).
Strong profitability and cash flow
Not only is Progyny growing at a rapid pace, but it is also doing a great job of generating cash and maintaining its profit margin. Their net income margin and return on common equity are high compared to industry medians and clearly demonstrate that Progyny offers a superior business model to its competitors. Management does a great job of deploying company resources. Given that Progyny is still in its infancy (IPO in October 2019), it is very impressive to see this kind of profitability at this stage. They have become operating cash flow positive in 2020. With exceptional revenue growth (80%, 5-year average) and well-maintained profitability, I expect Progyny to continue to thrive in the future. .
Financial security
Progyny is also a financially secure company. They have total cash of $105M against total debt of $8.42M, giving them a negative net debt of $97M. This strong cash position, combined with an already positive cash flow from operations, will provide Progyny with plenty of resources to support its growth. planning and marketing power to expand their customer base. In addition, their liquidity is well above the industry average. Their current ratio of 2.4x and quick ratio of 2.4x gives peace of mind that they are far from financially troubled. For such a young and growing company, it's good to see that they manage their cash flow very well.
Cappuccino Stock Rating
The detail of the metrics is available here.
| | | |
| --- | --- | --- |
| | Weighting | PGNY |
| Strength of the economic gap | 30% | 4 |
| Financial solidity | 30% | 5 |
| Growth rate vs sector | 15% | 5 |
| Safety margin | 15% | 3 |
| Sector outlook | ten% | 4 |
| Globally | | 4.3 |
Economic Gap Strength (4/5)
Progyny has a well-defined economic divide. Their platform and benefit design clearly deliver superior clinical outcomes, which benefits both employers and employees. With the economic fluke well defined, I expect them to continue to expand their customer base and increase their revenue.
Financial strength (5/5)
Progyny is financially a very secure company. They have plenty of cash (over $100 million) with negligible total debt. Given the uncertain market environment and the ongoing potential recession, it is good to see that Progyny has strong cash and liquidity positions. Investors can rest easy in this category.
Growth rate (5/5)
Progyny has grown rapidly over the past few years (80% revenue growth per year, 5 year average), and I expect them to continue this growth streak. Maybe not quite 80% per year, but revenue growth of 40-50% per year is certainly reasonable. Their superior clinical outcome and marketing plan will enable strong growth.
Safety margin (3/5)
Because Progyny is a young company and does not yet have a long track record, the stock price will rise and fall quite wildly, especially when the stock market is as volatile as it is now. The recent decline in the share price (~50% from the November high) provides an excellent opportunity for investors, but, as I expect market volatility to continue, it is difficult to award more than 3 in this category for a young growing company like Progyny.
Sector outlook (4/5)
Overall, the healthcare industry will continue to grow as technology advances and the population ages. In particular, the infertility market will grow at a faster rate (~10% per year) than the overall healthcare market. This isn't exceptional growth like you can find in some tech sectors, but it should be enough to present a great growth opportunity for Progyny.
Risk
Progyny enjoys a first-mover advantage at this point, and I expect them to maintain their economic fluke. However, any health insurance company with significant financial and technological resources could still enter the market and disrupt Progyny's growth. Also, compared to other types of healthcare companies, their technology is not protected by patents or government regulations. Therefore, it is more vulnerable to disruptive technologies.
Progyny's valuation is pretty steep at this point. The P/E ratio of 52x and the EV/EBITDA ratio of 120x are well above the industry median. Given their young age and rapid growth trajectory, it is not uncommon to see such a high P/E ratio for a company like Progyny. However, the high valuation exposes an investor to greater stock price volatility, and a failure of revenue/earnings expectations will cause the stock price to fall sharply. Therefore, investors should keep this in mind.
Conclusion
Progyny effectively meets a need of employers and employees. Perceptions around infertility are improving and employers are increasingly offering fertility benefits to compete in a tight job market. There is plenty of room left in the market and Progyny has a promising growth trajectory. Their profitability and financial strength are impressive for such a young company. The company has a head start in the field, which will make it possible to protect itself against a technological breakthrough or competition from other companies with significant resources.
Marketplace in preparation
Thank you all for reading my article. I am in preparation for a Marketplace launch soon. Please be excited! Also, let me know what types of analysis or information you would like to see more of in my articles. I will consider it for the market. Thank you all for your support!