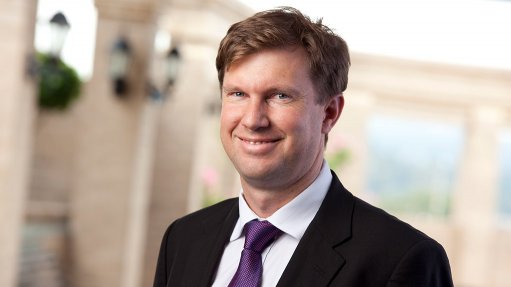 PwC suggests miners use 2021 gains to prepare for future of critical minerals
Although the world's 40 largest mining companies posted outstanding financial results in 2021, it's unclear how long this record can continue as the industry experiences unprecedented change, says PwC.
The business services and advisory firm finds in its "Mine 2022" report that the net profits of the top 40 mining companies globally increased by 127% in 2021, while market capitalization increased by 7%.
Capital expenditure by these companies increased by 18% and dividends increased by 130% in 2021.
The top 40 mining companies recorded a combined net profit of $159 billion in 2021, compared to a combined net profit of $70 billion in 2020.
Four South African-based companies are among the top 40 global mining companies, including AngloGold Ashanti, Sibanye-Stillwater, Gold Fields and Impala Platinum.
PwC Africa leader in energy, utilities and resources andries Rossouw lists the major influencing factors of the moment as being the growing demand for critical minerals, increasingly challenging operating environments and increasing competition from new emerging players.
"Success will depend on whether or not the Top 40 can play a leading role in the global energy transition and continue to generate significant value for stakeholders.
"To do this, miners must use their current strong financial position to address challenges such as development timelines, price volatility, geopolitical risks, stakeholder expectations, economies of scale and resource scarcity. economic," he explains.
Going to net zero requires more mining, not less, as rapidly scaling low-emission systems is very material-intensive.
The International Energy Agency estimates that the annual demand for essential minerals from clean energy technologies will exceed $400 billion by 2050, which is equivalent to the annual revenues of the current global coal market.
The supply and price of metals entering batteries will have the greatest impact on whether electric vehicles will achieve cost parity with traditional internal combustion engine vehicles.
"Demand will dramatically outstrip the ability of miners to supply key metals such as lithium, copper and cobalt by 2040. The top 40 can play a leading role in the global energy transition and generate significant value for stakeholders, if they make effective use of current capital gains," reiterates Rossouw.
For example, some mining companies are moving down supply chains to value-added processes, such as Anglo American South Africa with its own hydrogen fuel cell mining offload vehicle.
Another emerging trend is original equipment manufacturers (OEMs) and end-users partnering directly with mining operations.
"We've seen a number of deals where big companies are cooperating with the mining industry to secure supply for the future," says Rossouw.
It proposes that the first 40 miners review their exposure to minerals and materials critical for the energy transition; assess opportunities to own more of the supply chain and partner directly with local OEMs and suppliers; integrate low-emission technologies into operations to position itself as a preferred supplier for carbon-conscious end users; and increase transparency of environmental, social and governance (ESG) performance and stakeholder engagement.
Additionally, he recommends that these companies evaluate development models around a shared infrastructure, which could accelerate development times and reduce upfront capital costs, while preparing for a more difficult push and more. affirmed by regulators.
Meanwhile, the value of transactions between the world's 40 largest mining companies tripled in 2021 compared to 2020, while the number of transactions increased by 60%.
Gold trading activity accounted for 70% of total deal value in 2021.
Tax partner of PwC Africa Laetitia the Red indicates that the value of the first 40 transactions for critical minerals doubled in the last year and that the move to net zero does not only create opportunities in critical minerals, but also in coal and iron ore, because these materials continue to enjoy strong demand
The top 40 aren't the only ones moving in critical minerals; in fact, around half of the total value of mergers and acquisitions in 2021 occurred outside the group.
To illustrate the impact of rising material demand and supply shortages, PwC points out that the prices of various commodities jumped in 2021 compared to 2020, such as copper growing 26% in average, iron ore up 59% year-over-year. , coal prices rise 54%, and cobalt and lithium prices skyrocket 119% and 280%, respectively.
On the one hand, coal is expected to overtake copper as the main source of revenue for the top 40 mining companies this year, which is a consequence of supply pressure, lack of supply investment and/or or the volatility encountered in the context of the energy transition.
Moreover, in addition to ensuring cleaner operations, mining companies are feeling the pressure to operate cleaner.
Rossouw says ESG is no longer an option or a point of differentiation, but rather the minimum operating standard.
Le Roux agrees, saying the industry will come under continued ESG pressure, and the need to improve stakeholder trust and strengthen the social license to operate.
"Government and regulators, especially in the European Union, are sending clear signals that they will hold companies accountable to operate in a more sustainable and ethical way," she says.
PwC finds in the Mining 2022 report that 83% of mining and metals CEOs consider meeting customer expectations to be an influential factor in their net zero commitments.
This leaves mining companies with limited choices – either divest or dismantle projects that lack appropriate environmental and social credentials, or reduce emissions and increase the positive impact of existing operations.
"ESG performance affects the cost of capital. Increasingly, banks and investors are cutting ties with projects deemed unsustainable or unethical.
"This while green premiums will only continue to grow as consumers become more discerning about supply chains and provenance," adds Le Roux.
To this end, it is essential that all mining companies adopt ESG-related disclosure frameworks as soon as possible.