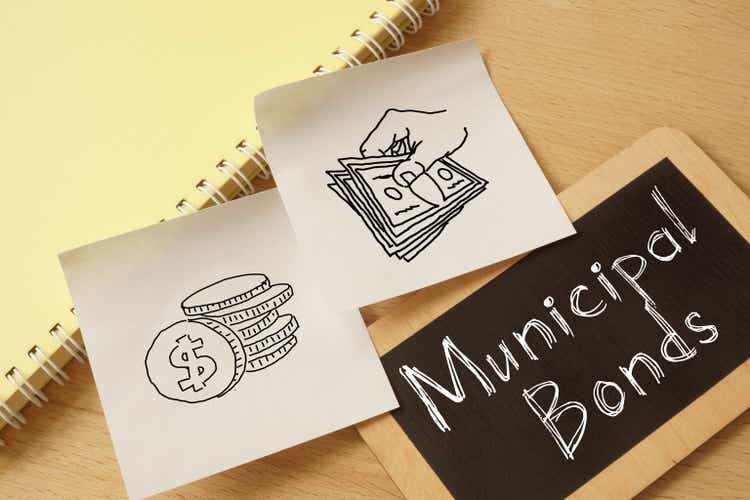 RMM: A Unique Approach to Municipal Investing (NYSE: RMM)
Written by Nick Ackerman, co-produced by Stanford Chemist. This article was originally published to members of the CEF/ETF Income Laboratory on May 22, 2022.
Fixed income funds have suffered massive losses this year. These are supposed to be the safest options compared to stocks. However, after years of near-zero interest rates, the Fed is ready to raise rates aggressively to temper inflation. This put additional pressure on yields across the board.
Municipal bonds are a particularly interest rate sensitive area. Municipal bonds are generally investment grade with longer maturities, which translates into longer durations. At this point, however, prices have come down significantly and municipal fund yields are starting to look interesting now.
A fund to gain exposure to this segment of the market is the RiverNorth Managed Duration Municipal Income Fund (NYSE: RMM). They take a unique approach to investing through two different managers with two different strategies. RiverNorth manages part of the portfolio, investing in other closed-end funds – a fund-of-funds approach. There is also MacKay Shields which manages a portion of the assets and invests in individual cash bonds.
Currently, they are positioned in a "neutral CEF environment" weighting.
The most accurate weighting at the end of March 31, 2022 was 67% municipal bonds and 33% municipal funds. Interestingly, it was roughly the same weighting when we took a look last year. At that time, CEF prices were much higher.
In fact, the fund's discount at the time was only 1.21%, which also made it quite expensive. That has gone down now, along with the underlying positions in the portfolio, making it a much more tempting offer. However, there are risks to consider which we will also address.
The basics
Z-score over 1 year: -1.21
Discount: -6.26%
Distribution yield: 7.50%
Expense ratio: 2.17%
Leverage: 40.46%
Assets under management: $602 million
Structure: Fixed term (expected liquidation date July 25, 2031)
RMM's investment objective "aims to provide current income exempt from regular US federal income tax with a secondary objective of total return". As we pointed out earlier with the RMI, they use a national approach. Therefore, state taxes would still largely apply except for the allowance derived from your home state.
To achieve this, they use a CEF-based approach, as discussed above. If they are more defensive in the CEF space, they will have a smaller allocation. At the same time, if values ​​in the CEF space are attractive, they will take the portfolio to a 50/50 approach between CEFs and individual municipal bonds. I would be curious to see now that CEF valuations open up if they change course this year. We have already seen that they did not change when CEFs were expensive last year.
Now, here are some risks to consider. The fund itself is not too big considering the leverage of the fund. It came in at $358.4 million in their fact sheet. This has decreased since the end of the first quarter of 2022. The fund is highly leveraged and is limited to "no more than 45%".
It is an endowed fund, so high leverage may be acceptable. However, since they also hold other CEFs, these also have a leverage effect. Even if some leverage is acceptable since these are muni holdings, then we apply leverage on the leverage. This can make the fund more erratic and volatile compared to other municipal CEF funds.
Speaking of the fund-to-fund approach, this brings up the expense ratio of the fund. It peaks at 2.17%, and it reaches 2.54% including leverage. Again, if we include the expense ratio of the underlying funds, it would be even higher. This means that they must certainly make excellent selections to overcome these high expense ratios.
Performance – Attractive discount
The good side of a funds-of-funds approach on a portfolio run is the discount on discounts. As of March 31, 2022, they reported that the average discount of the CEF portfolio was -7.2%. I couldn't imagine it was reduced too much with the continued volatility. On top of that, the fund itself is at quite an attractive discount.
The fund was launched in the middle of 2019, so it doesn't have too much track record. The history we have, however, puts the average discount at 3.43%. Compared to where the fund is currently trading, this makes it look cheap.
Below is an overview of the performance between RMM and iShares National Muni Bond ETF (MUB) since RMM's inception. This helps highlight how much more volatile the RMM is due to its leverage and CEF sleeve. As stock market volatility increases, we typically see CEF rebates/premiums also move significantly.
Overall, the time since the launch of the fund has not been a good time. They had to deal with the 2020 pandemic shortly after its launch and now crushed by higher interest rates.
One interesting thing to note is that if we removed leverage from RMM, it should decrease less. This is because MUB has a duration of 6.49 years and RMM has an estimated covered duration of 5.61 years. All things being equal, this would mean that higher interest rates would push MUB even lower.
Distribution – Managed 5.5% plan
Similar to other RiverNorth funds, they carry a managed distribution plan. This means that they will be reset every year to this amount, whether won or not. For RMM, this is a rate of 5.5% set on the last trading day of the calendar year. The fund remained stable through 2020 and 2021. Investors then saw an increase in 2022.
As things stand, if it were adjusted today, it would be reduced since the payout rate on the NAV is currently 7.03%.
Below we can see that there is a significant discrepancy between net investment income and what was actually distributed to shareholders.
One of the reasons for this comes down to the high expense ratio. The fund's actual total investment income was nearly $10 million. More than half of it is reduced due to spending of $5.124 million on the fund. This highlights why they must be successful in managing the fund. It will take significant capital gains to avoid eroding the fund.
That being said, for tax purposes it is still tax efficient. The distribution was split primarily between return of capital and exempt interest dividends.
Return of capital can be tax efficient as it defers taxes until the position is sold. This is done because each ROC distribution reduces the cost base. This can change from year to year, quite drastically too. So it's always something to watch closely. Unfortunately, the official tax classifications are only known after the end of the year.
RMM Portfolio
The fund's turnover was last reported at 13% for the last six months for the period ending December 31, 2021. This means that they are somewhat active in moving positions. That being said, the fund's allocations haven't changed too significantly since our analysis last year.
In addition, the duration of the fund amounts to the 5.61 years indicated above. That was an increase from the 4.10 years they estimated last year. Given that the portfolio is dominated by higher quality positions, it is not too surprising to see a high duration.
However, when they estimate the uncovered duration, it would actually be around 9.46 years. This means that for every 1% change in interest rates, the fund's underlying portfolio would lose 9.46%. Moving interest rates to 4% or 5% would mean massive losses. So, at least in this regard, the hedged portion is large enough to preserve some capital.
This high-quality portfolio could also mean more protection when we slide into the next recession. In total, CEFConnect puts the number of holdings at 77. Since the fund holds other CEFs, we know the actual exposure is significantly higher.
For the first places, we find the same names as last year.
Nuveen AMT-Free Quality Municipal Income Fund (NEA) is the largest. This is then followed by cash – which has increased by one position. Nuveen Quality Municipal Income Fund (NAD) is then the third largest (or second if you disregard cash position.) Next is the Folsom Cordova CA UNi School District 4% and Illinois State 5% – exactly the same positions as last year.
NEA and NAD are two of the largest CEFs in terms of assets under management. Of course, the high amount of leverage they use, 42.28% and 41.77%, respectively, contributes to this. Remember that this is also in addition to RMM's 40% leverage.
CEFConnect shows that NEA holds 1,376 positions and NAD holds 1,353 positions. I'm sure there is significant overlap here, but it just shows how exposed RMM really is to fund shareholders.
NAD and NEA are both close to year lows in rebates. It's something RMM's NAV had to digest.
When we look at the performance of RMM, NEA, and NAD, we actually see quite similar results on a YTD basis.
RMM underperformed slightly. This could be due to higher spending, but also factoring in the bigger price drops that NEA and NAD are showing. This puts pressure on RMM's total net asset value return, but of course the actual stock price of NEA and NAD does not impact their own total net asset value returns.
Conclusion
RMM is certainly at a more attractive valuation than last year. The fact that CEF rebates have expanded across the board also bodes well for this fund, as it has a sleeve of other CEFs. However, the higher expense ratios mean that RiverNorth needs to perform at the top of its game. They are certainly a highly respected and intelligent group.
In better times, leverage over leverage should also benefit this fund as well, but with the idea that it will be significantly more volatile. This fund takes a muni approach, but in the end you end up with a relatively more volatile fund. It takes away some of the calls from municipal funds in the first place, in my opinion.