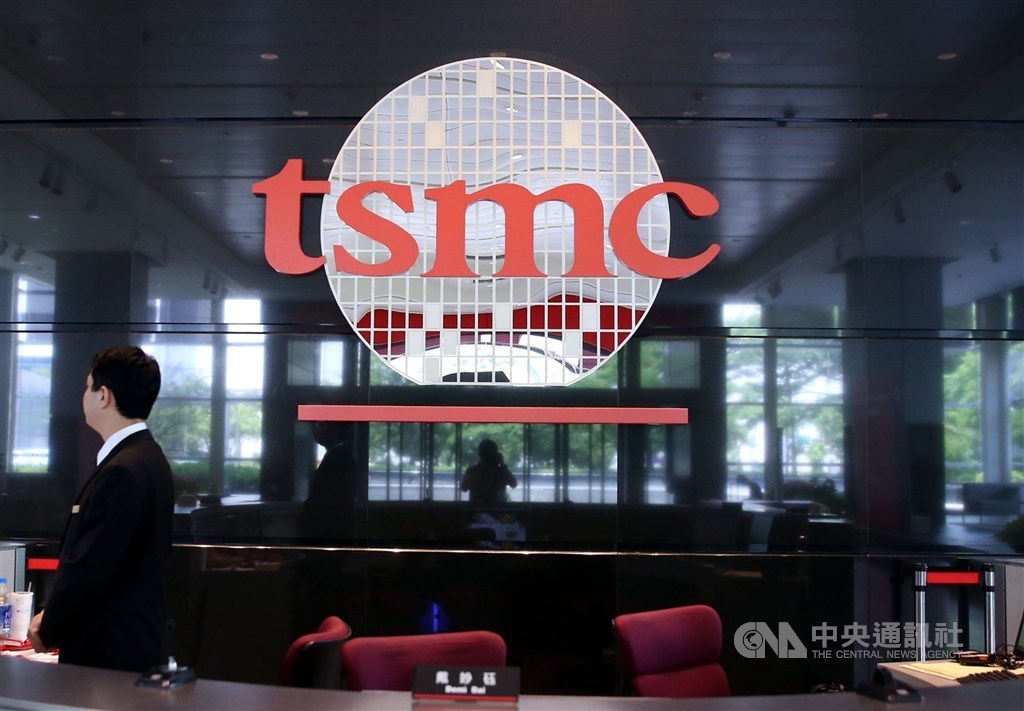 TSMC investor conference could focus on US call for information
Taipei, Oct. 9 (CNA) Taiwan Semiconductor Manufacturing Co. (TSMC) has scheduled an investor conference for Thursday, October 14, and the event closely watched by investors around the world is expected to address US demand for manufacturers of chips to share information on demand and delivery, analysts said.
Other major topics include its third quarter results, fourth quarter outlook, capital spending and advanced manufacturing processes, analysts said.
On September 23, the US government held a meeting with TSMC, Samsung Electronics Co., Intel Corp. and others on industry progress in solving semiconductor supply chain issues, and launched a "Request for Information" (RFI) on the topic the same day.
RFI asks companies in the semiconductor supply chain to "voluntarily share information on inventory, demand and delivery dynamics." Its goal is to "understand and quantify where bottlenecks may exist," according to a statement posted on the US Department of Commerce's website.
The request has sparked fears about leaks of confidential business information that could lead to economic losses for Taiwanese semiconductor suppliers.
Taiwanese Economy Minister Wang Mei-hua (王 子 花) said on Friday that she raised concerns expressed by Taiwanese semiconductor suppliers during a regular meeting held on Wednesday with Sandra Oudkirk, director of the American Institute in Taiwan, the de facto United States Embassy in Taiwan. .
While Wang said companies that received the questionnaires are allowed to answer questions "voluntarily", stressing that they do not have to share confidential business information, the market has remained uncomfortable with the request of the United States.
Earlier this week, Sylvia Fang (方淑華), legal and legal adviser to TSMC, said her company would not release any sensitive information, especially information involving its clients.
On Friday, TSMC announced that its consolidated sales for the third quarter of the year increased 11.42% from the previous quarter to reach NT $ 414.67 billion ($ 14.81 billion) after a strong performance. in September, when the chipmaker's monthly turnover exceeded NT $ 150 billion for the first time to reach NT $ 152.69 billion.
In September, Apple unveiled the latest iPhone 13 lineup, which uses the A15 processor made on TSMC's advanced 5-nanometer technology. TSMC is considered the sole supplier of the A15 processor.
While third quarter sales were in line with TSMC's forecast, analysts said the market is closely monitoring how the company will report its gross margin – the difference between revenue and cost of goods sold – for the third quarter. .
In the second quarter, TSMC's gross margin fell 2.4 percentage points from the first quarter to 50% due to the higher depreciation costs of its 5nm process, the latest technology for which the chipmaker started serial production.
Looking ahead, analysts say, TSMC could provide guidance, forecasting its fourth-quarter revenue to grow about 5% from the previous quarter to a new high, but the 5% growth forecast looked cautious. as the momentum of TV and Chromebook shipments has slowed. .
Due to a global chip shortage, TSMC informed customers of a price hike in August, marking the first time in years for the chipmaker to raise prices for its entire product line. Analysts said further price hikes could be a priority at the investor conference, as higher product prices are expected to drive TSMC's sales, profits and gross margin in 2022.
After the 5nm process, TSMC is developing the 3nm process that it plans to start mass production in 2022. Beyond the 3nm process, analysts say, the market is considering a specific timeline that will be disclosed by TSMC for the development of the 2nm process as rival Samsung Electronics Co. has announced that it will begin commercial production of its 2nm process in 2025.
TSMC is investing $ 12 billion to build a 5nm wafer manufacturing plant in Arizona and is evaluating the possibility of setting up production sites in Japan and Germany.
Analysts said the upcoming investor conference is expected to detail the chipmaker's global expansion plan and a possible decision by TSMC to increase its capital spending over the next three years from the current spending plan of $ 100. billions of dollars.
This week, TSMC shares hovered between NT $ 560.00 and NT $ 583.00 and closed at NT $ 575.00 on Friday, down 0.86% from Thursday. Over the five sessions, foreign institutional investors stood on the sell side, registering a net sale of 30.36 million shares.